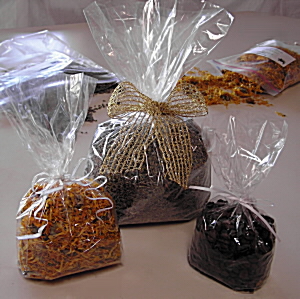 Cellophane Bags
Millions of printer cartridges are dumped in landfills each year and can take hundreds to thousands of years to decompose. Left over ink commonly found in the cartridges can also pollute the soil and surrounding water streams. Over 90% of the components found in these pieces can be recycled; therefore, printer cartridge recycling is vital to cutting down on this hazardous and useless waste.Recycling cartridges is now easier than ever.
When the unit becomes empty, you should remove from the printer and place in the original box or a plastic bag. This prevents the remaining bits of ink from leaking out of the cartridge. Multiple manufacturers offer a service that will enable you to send the used piece back to the company. Some even supply cellophane bags for you to use when disposing a cartridge. Contact the company and simply ask about their recycling program. Many will even provide preprinted labels and paid shipping envelopes in which to send the items.
Stores such as Staples, Office Depot and even Wal-Mart have now provided drop boxes for used cartridges. They normally accept any printer cartridge as well as those from copiers and fax machines. Some retailers offer an incentive for recycling these units by giving a coupon or discount to use on the purchase of a new cartridge. If the previous two options are not available, simply contact your local recycling center. They can give instructions on where to drop the items so they can be recycled properly.
There are a number of ways to be environmentally friendly and recycling a printer cartridge is one of the more simple ways to do so. Reusing one is also an option for those who wish to make the cartridge last a bit longer. Refill kits are available for certain models and can be used to simply reload the ink. This also prevents the purchase of yet another cartridge.Printer cartridge recycling is a great way to pitch in and help lessen the amount of waste placed in landfills each year.
It is better for the environment and can help save you money on your printing needs. The vast number of recycling options now makes it quite convenient to drop off these small items for reuse.